Paris's take on spring/summer 2022 was fun, light and impactful. While Louis Vuitton saw a protester barge onto the runway, Balenciaga stole the show with a "customised" episode of The Simpsons. Meanwhile, Chanel gave us a strong case of wanderlust while Schiaparelli showed how to do spring, off-duty in the brand's signature way. Snapshots:
Chanel
The invitation for the show arrived over an email that carried a picture of model Vivienne Rohner taking a photo — produced by photographers Inez and Vinoodh, which also eventually transcended onto the runway. Creative director Virginie Viard drew inspiration from the intersection of fashion and photography as a composite concept under the wider umbrella of art for this collection of their ready-to-wear spring/summer 2022 line. "Because fashion is about clothes, models and photographers. Karl Lagerfeld used to photograph the Chanel campaigns himself. Today, I call upon photographers. I love the way that they see Chanel. It supports and inspires me. It's a magical object and a sexy gesture, which evokes so many memories. I used to love the sound of flashbulbs going off at the shows in the eighties, when the models were on a raised runway. I wanted to recapture that emotion," said Viard. After a year of involuntary confinement, Chanel made a strong case for a luxe holiday with silhouettes that were easy and glamorous in a show set to the tune of a cover of Freedom! '90. Rompers, swimsuits, sports bras often paired with skirts and net pants — "a lot of very simple bathing suits in gold or white with black trimmings. Short dresses in pink or mauve tweed, fishnet skirts, jackets embellished with multicolour crochet and denim suits. There are also a lot of prints: big, colourful butterfly wings on black chiffon," said Viard in the collection note. Happy prints and fun accessories completed the looks that made a very strong case for the effervescent spring luxury-holiday vibe.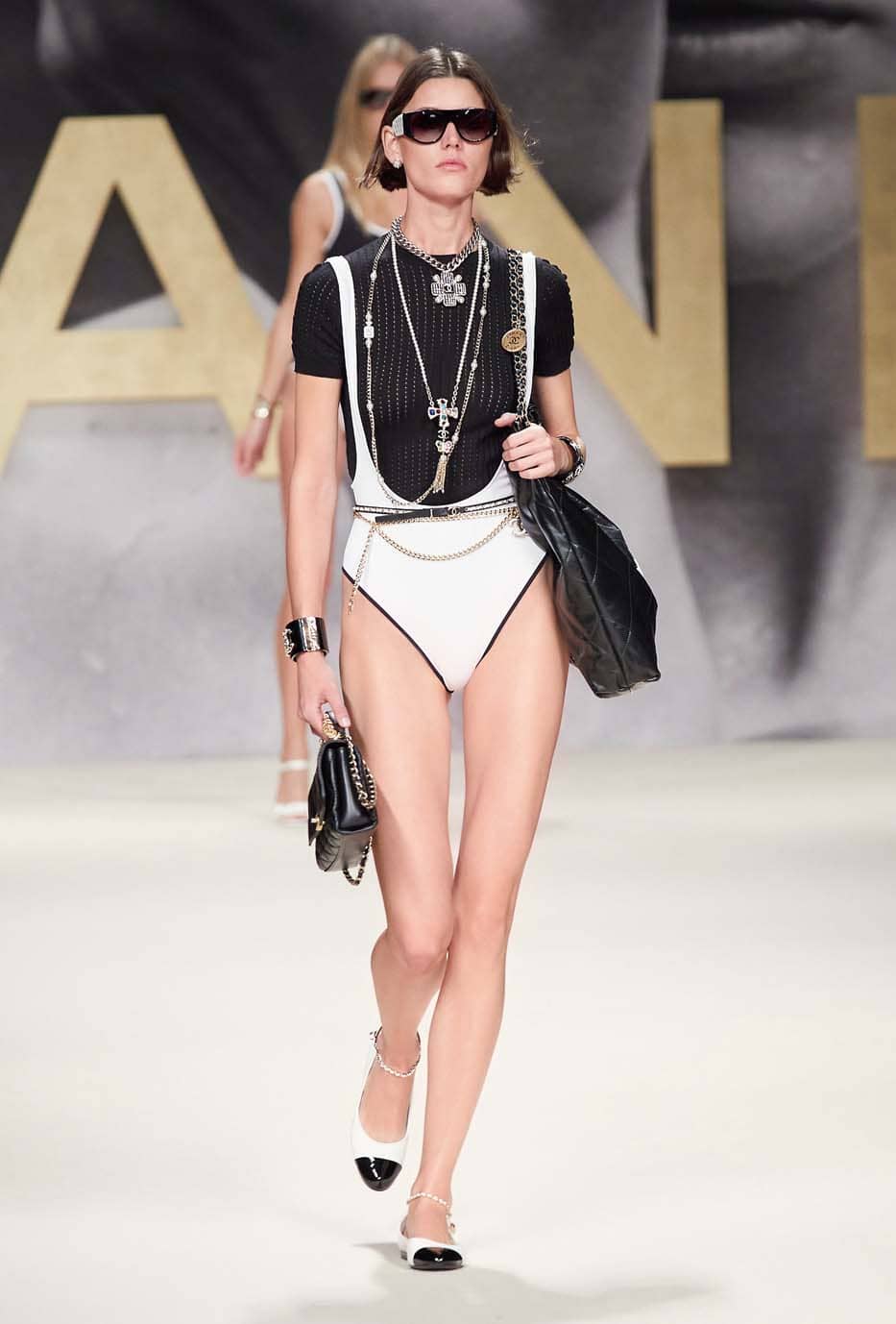 Advertisement
Givenchy
Matthew M Williams for his first physical runway collection brought out big trainers, thigh-high boots, peplum doublet jackets, frills and sheer skirts. Pastels were the colours of choice mostly and the streetwear pieces saw a collaboration with artist Josh Smith. Not in fashion though was a neckpiece used by the label that was fashioned after a noose, which brought in some criticism.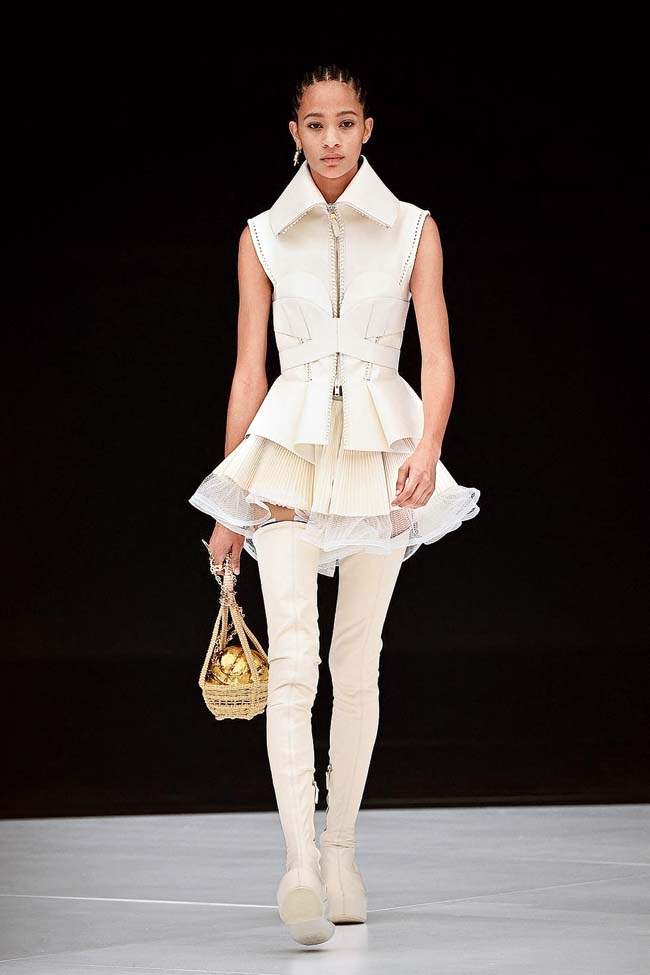 Louis Vuitton
With "an invitation to le grand bal of time", the LV show saw Nicolas Ghesquière take a trip down memory lane, with nods to the '70s and '80s. Tux jackets, dresses, denims, sparkly party attire and more were sent down the runway as the designer focussed on dressing up as per anybody's sense of fancy. But what's a show without some surprise element and in this case, it was a climate activist who forced her way onto the runway with a banner calling out excessive consumption, until she was carried away.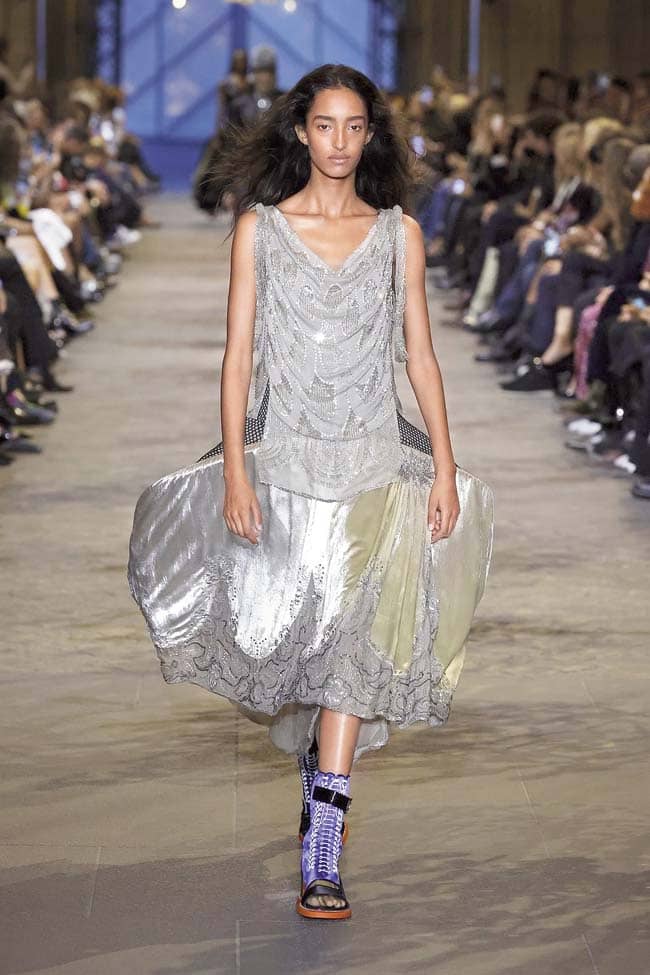 Balenciaga
In a fun twist to the show, the audience walking into the venue became the show with Naomi Campbell walking next to Cardi B and the likes as the invitees sat inside, looking at the arrivals on a giant screen; building up to when they showed an episode of The Simpsons wherein the main characters were decked out in the house's latest designs. The collection itself focused on oversized denim, head-to-toe prints, graphic accessories, huge gowns and eveningwear.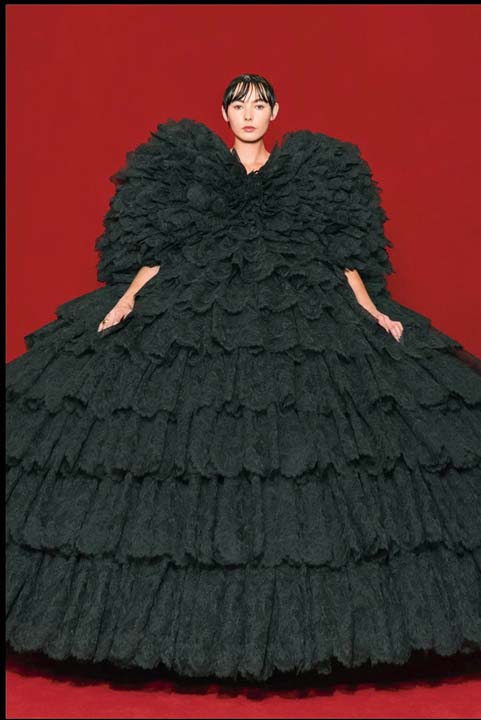 Schiaparelli
Called 'The Surrealist's Holiday', the collection aimed to answer the question of what the brand's loyalists would wear "when not serving looks". Presented in two halves, the collection saw a city and a beach version, in which body jewellery such as breastplates met surrealist pieces, conical corsettry on denim jackets, deckchair stripes swimwear and off-duty denim.
Stella McCartney
Body-hugging knits with rib-cage cutaways, relaxed and slouchy slacks in bright colours, big parkas that can also be dresses and sequinned body suits (more like stockings), along with the Frayme Milo bag made with mushroom leather were the climate-conscious McCartney's take on next year's spring fashion.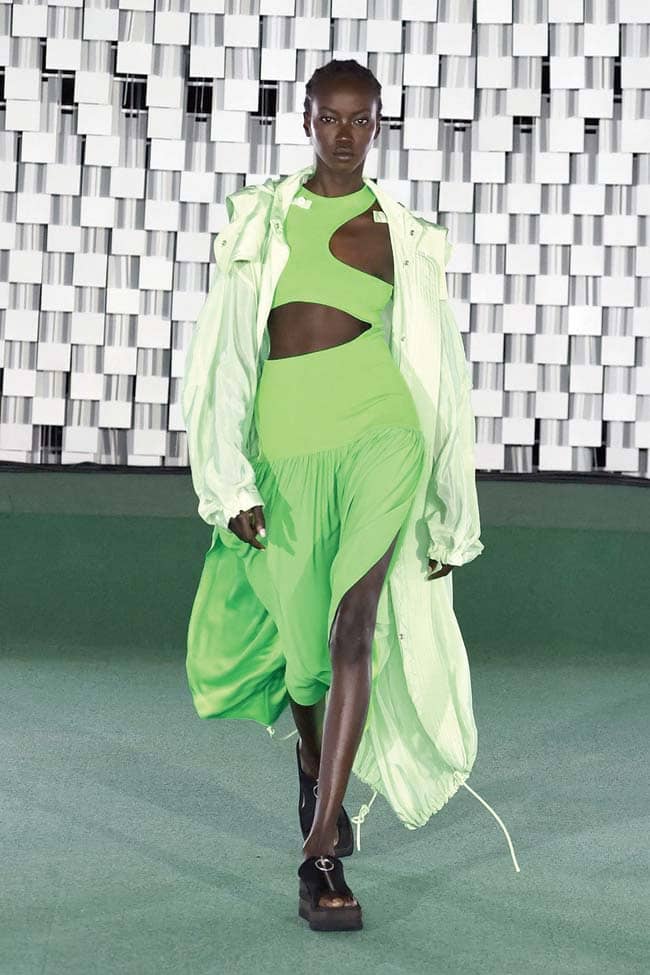 Giambattista Valli
The designer played to his audience by living up to the brand's reputation of volume and larger-than-life silhouettes, albeit in a ready-to-wear manner. Sweet suiting, skin-bearing separates, blouson silhouettes, floral motifs on a mostly ivory colour palette completed the showcase.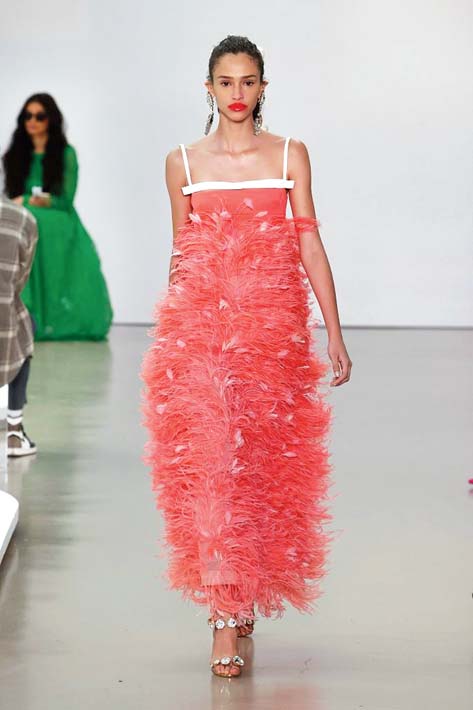 Snapshots from Milan fashion week's spring/summer 2022 showcase
Back after a year, Milan put its best foot forward and how! From exotic venues to putting its fashion weight behind collaborations, Milan Fashion Week made an impactful return to the runway-starved world. While miniskirts, short dresses, sensual designs spelt fun, colours like hot pink and orange made multiple appearances amidst the usual neutrals. The best was saved for the last with a collaboration that was a well-kept secret and saw two fashion biggies take to the runway in style. Snapshots:
Versace
Donatella brought back glam and how! Glitzy fabric, sensual silhouettes, safety-pin dresses and supermodels from Emily Ratajkowski to Naomi Campbell. The icing on the cake? Dua Lipa opened and closed the show as she walked to her own song, Physical. The Medusa head also made appearances, reinforcing Donatella's vigour with this show, with shirtless male models giving wind to the sail of this Versace showcase.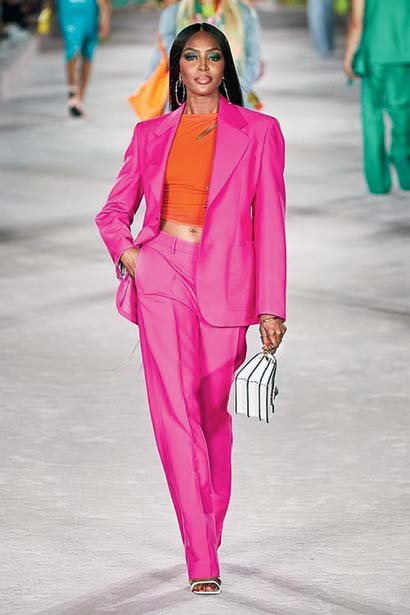 Fendi
Kim Jones, in his first physical show for the brand, paid tribute to the origins of the label by hosting it at porticos reminiscent of Rome, where it all started. Archival logos transformed into prints, trench coats, skin-tight co-ords and thigh-high boots made appearances. Maxis and kaftans seem to lure people out for holidays.
Roberto Cavalli
Animal prints made a comeback as creative director Fausto Puglisi presented his second collection for the brand. Long cocktail dresses and shorter holiday dresses made appearances to show the return of the brand to their spirit of celebration.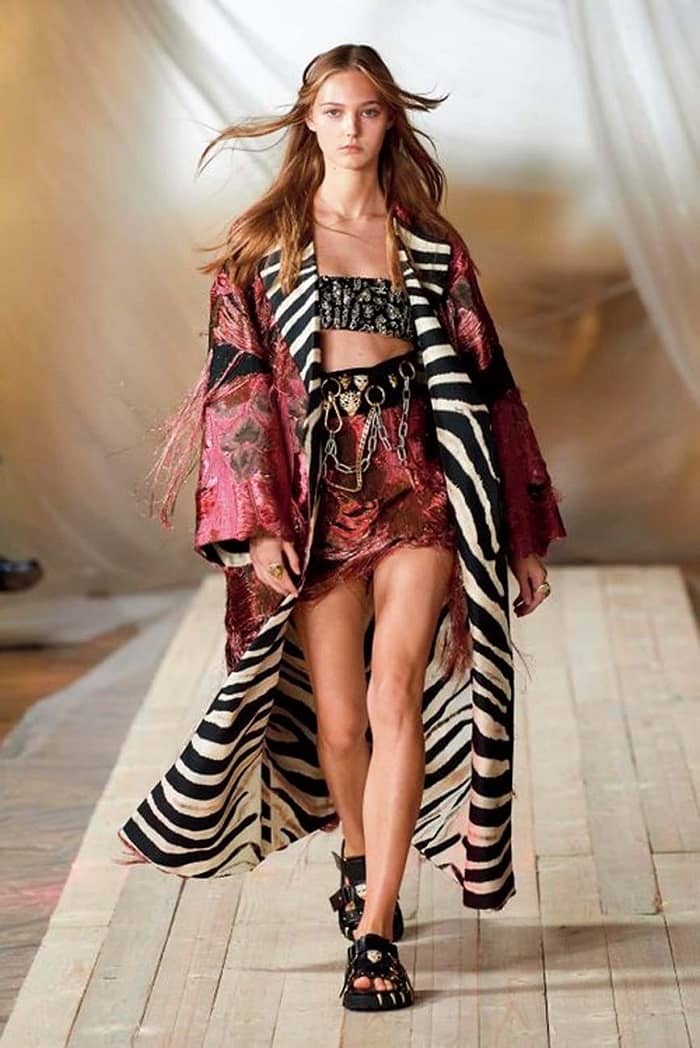 Giorgio Armani
The designer took the audience to his headquarters where he showcased his silks and tulles against a romantic Milan sunset playing out on the screen behind the runway. Trousers in silk, flowy dresses, easy, collarless jackets on colours reminiscent of a sunny sky that transitions to sunset, were the mainstays of this collection.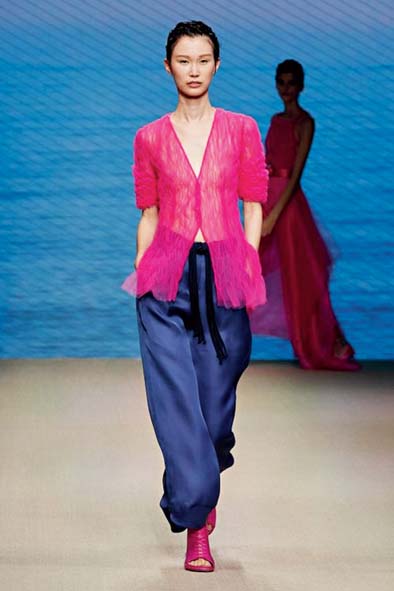 Emporio Armani
For its 40th birthday, the collection postulated the idea of chic unisexual fashion that saw easy-but-well-tailored silhouettes on pastels. The focus was on texture and fabric from silks to lattice and patchworks. Take it for your holiday or for flaneur, the collection represents understated chic like only Milano can.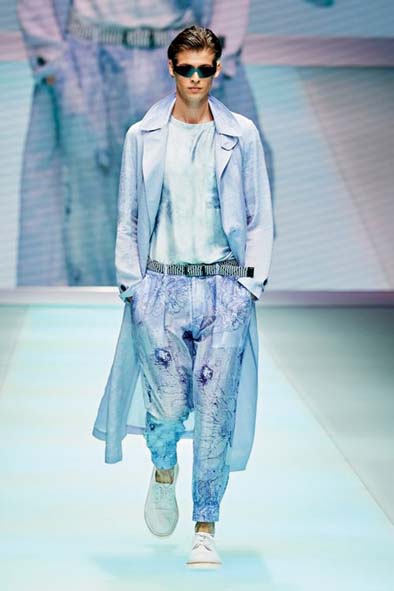 Max Mara
The French movie Bonjour Tristesse served as inspiration for designer Ian Griffiths. The designer kept it real and practical with neutral colours, simple silhouettes and a bright colour here and there. "Beatnik chic" was clearly the mantra for this collection. Fit for work or a casual day out, Max Mara brought wearability to the ramp.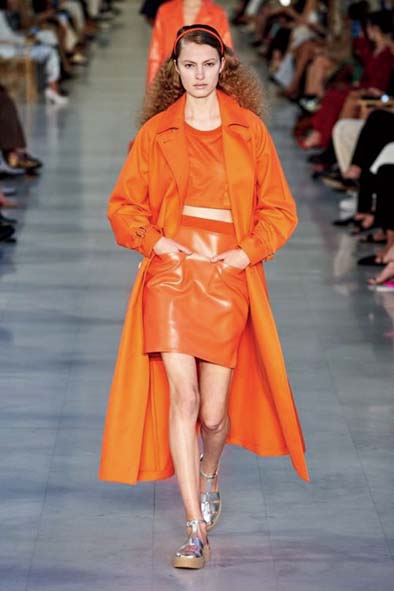 Fendace — Fendi x Versace
The best was reserved for the end in the form of the mother of all collaborations — Fendi's Kim Jones and Silvia Venturini swapped roles with Donatella Versace to show what was a fashion feast with some of the biggest models walking the runway. If it wasn't already, collaborations are the most fashionable thing to do every season!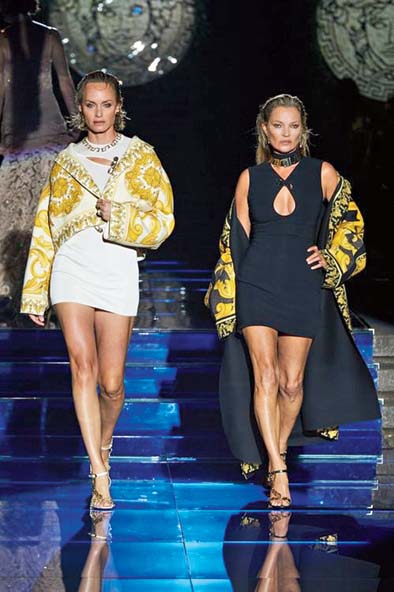 Prada
Miuccia Prada and Raf Simons presented their spring collection in tandem in Milan and Shanghai as they showcased their brand's iteration of what modern sensuality could represent. They got miniskirts back and added a corset-like effect to sweaters; while scarlet and black went hand in hand in this collection.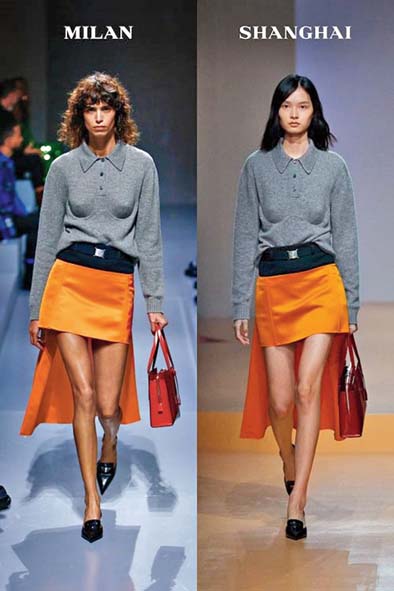 Dolce & Gabbana
The design house predicts fashion next year as fun, with a healthy dose of the noughties and some spunky pop culture references. Jennifer Lopez's face on one T-shirt with pants going low, ornate tops to animal print on jackets — if this is what next year will look for, we are all for it!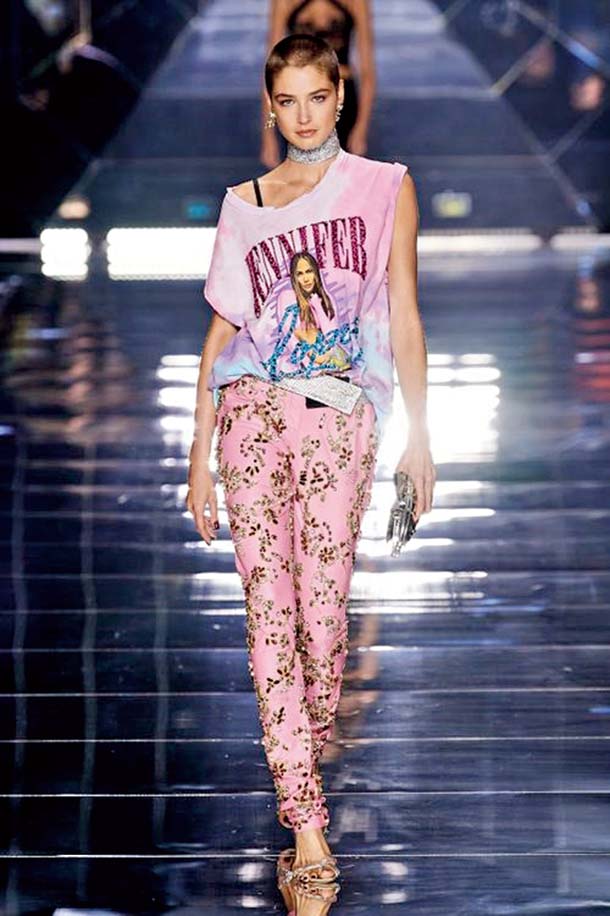 Here are the other best ravewear off the runways of Paris Fashion Week SS22
Pressiat
Young graduate from the Chambre Syndicale de la Couture Parisienne who worked at Galiano, Margiela, Saint Laurent and Balmain, Vincent Garnier Pressiat launched his house at the AW21 FW in Paris. This new collection in chiaroscuro blends in Victorian and 1970s elegance with bold nightlife exuberance.
Germanier
This element will show content from various video platforms.
If you load this Content, you accept cookies from external Media.
Didn't think upcycling could be incredibly sexy? It's no surprise Kévin Germanier's unparalleled eco-friendly glamour caught the eye of the industry with his innovative and artful use of beads and silicone. The CSM alumni brings here a new collection where bold pop colours meet disco brilliance, with kaleidoscopic outfits ready to shine and move endlessly at the first stroke of light.
Ottolinger
Berlin's Ottolinger continues to challenge luxury fashion's status quo with impressive handwork and forward-thinking shapes. "Staying true to our sensuous Elf-core," the new SS22 collection beams with vibrant, earthy tones, with the designer's signature mesh work wrapped around bodies like Devil's ivy—the most resilient plant and an apt companion for pandemic times.
Racer Worldwide
In its 4 years of existence, the young fashion creative collective from Estonia has already gathered a cult following across Europe and beyond. Drawing from the aesthetics of various subcultures, the project aims to redefine the relationship between designers and consumers. With a party area in the basement, a tattoo parlour and various interactive installations, Racer's first-ever international pop-up event and concept store was an undeniable success: a young and eclectic crowd of trendsetters queued outside for its two opening days.
Rick Owens
Owenscorp's label-head brought to the monolithic architecture of Palais de Tokyo a new sling of Spartan power outfits perfect for the dark and brutalist dance floors of this world. Adorned by a line of chokers by Goosens, the new collection features his signature enlarged shoulders and some of the flesh-exposing, clean cutouts that have marked this SS22 season. The show featured a weary, distorted soundtrack custom remix of 'Godzillafather' by Mochipet, as a topical nod to our short-lived hedonistic pursuits.